Clare O Neill - Ancient+Modern
Clare O Neill - Ancient+Modern
August 17th to 24th 2019
Total Course cost:
$2595 USD FOR A PRIVATE BEDROOM/SHARED BATHROOM

$2995 USD FOR A PRIVATE BEDROOM & BATHROOM
Reservation Deposit: $500
Clare is a professional photographer, experienced photo encaustic artist and passionate teacher. She teaches about using photography as a tool for re-awakening creativity and self-expression while taking your photographs to new dimensions and creative possibilities.
Clare has a deep connection with Ireland. Although born in the US, Clare maintains her Irish Citizenship and is proud that her parents hailed from Dublin and Co. Monaghan. She has traveled to Ireland 40+ times and in a previous life organized small group tours specifically to Ireland.
Through her popular online programs and in person workshops, Clare provides support, inspiration and strategies to photographers all over the world who are looking to expand their artistic vision through the encaustic medium.
The Photo Encaustic Irish Workshop is a 8-day, 7-night, fully immersive artistic experience designed to accommodate all levels of encaustic abilities. The workshop is located in Mulranny, Co. Mayo.
We'll cover the entire creative process including:
Perspective

Composition

Photographing

Editing (determining what photos work best for encaustic)

Encaustic techniques
Supplies
Apart from owning (and knowing your way around) your own camera and equipment, you'll also need to bring a laptop, be able to download images, and be comfortable using your own editing software.
The Craft
We'll have a large studio set up in Mulranny to accommodate all levels of photo encaustic artists. If you are familiar with the techniques, you can start working on your images right away. If you are new to the techniques, we'll spend the first couple of days learning the process step-by-step.
We'll begin by exploring the work of other photo encaustic artists and start to get a feel for the mood and tone of images that most inspire you. This is where you'll start to hone your creative vision. You'll learn the techniques and what to look out for when photographing with encaustics in mind. After each shoot we'll download the images and decide which ones will work best for encaustic and for your creative vision.
Each morning we'll rise and head straight out to take photographs. You'll have the opportunity to take images of the people and the landscape of Ireland. The afternoons and evenings will be dedicated studio time.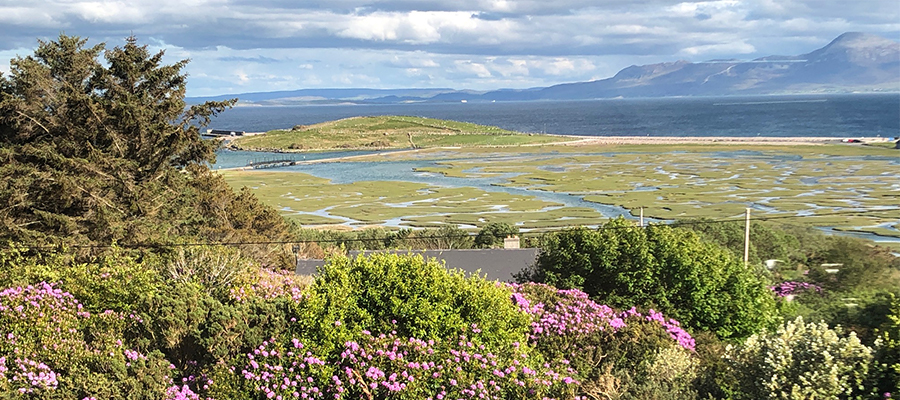 E.O.M Studio
This 7 night/8 day all inclusive creative journey will be hosted by The Essence of Mulranny Studio, run and operated by artists, Lora Murphy & Cheryl Cobern Browne and located in the quaint coastal village of Mulranny, Ireland. A place full of rugged beauty, fascinating history and endless inspiration!
All meals included

FROM OUR HOSTS – LORA & CHERYL
We invite you to imagine standing on the panoramic hillside of our studio, taking in the spectacular views of Clew bay and Croagh Patrick (Ireland's holy mountain). Open your heart to the profoundly moving drama of constantly shifting Atlantic skies, reflecting a ever changing light show on the bay. The wildness and drama of this spectacular area belie the peace and connection you will feel to Ireland and to this very special place.
Lay on a blanket in the heather and watch the stars emerge on a clear night or walk along the rocky shores, to gather shells, driftwood and memories. Find yourself letting go of the stress of everyday life, feel the mystery and beauty of this land, awakening your senses. This unspoiled place provide a safe place of inspiration and experimentation to stretch your skills in whatever medium you are working on.
You are warmly invited to stay awhile.